In this article we guide you through creating Google Shopping campaigns with the Bidbrain Campaign Manager.
Intro
With the Campaign manager, you create Google Shopping campaigns that use Bidbrain AI bidding strategy.
To create a Bidbrain campaign, you will input:
Budget
ROAS target
Product filters to include products
The Campaign manager builds the Shopping campaigns in your Google Ads account, with our unique keyword waterfalls and Ai bidding on top.
Prerequisite to create Bidbrain campaigns
✅ You have created a Bidbrain account and have a PRO+ subscription
✅ You completed the Store settings setup.
✅ You have added a product feed and connected your Merchant center account through supplemental feed or migration to Bidbrain CSS
If you have completed all of the steps above you are ready to setup your first Bidbrain campaign.
Get started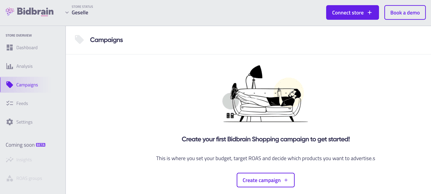 The Campaign manager is found under:
https://bidbrain.com/console/campaigns
Click the button Create campaign to get started.
Step 1. Name your campaign
Type your Campaign name and press Save-button.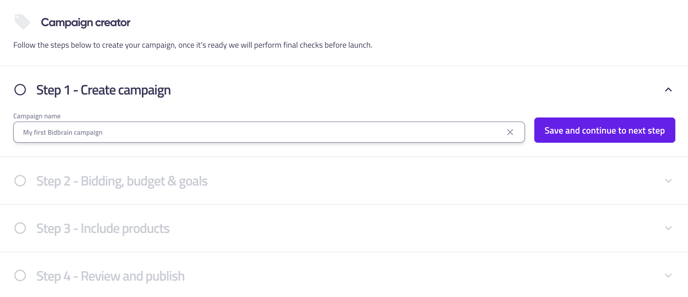 Naming convention
You can name you campaigns what you want, our suggestion are to give the campaign a name that give you an easy way of identify which products that are in the campaign.
For example:
Top performers
Brand - Nike
Category - Shoes & sneakers
All products

The name you choose will also be used in Google Ads, the above campaign with name My first Bidbrain campaign will look like this in Google ads.
Press Save and continue to next step 👇
Step 2. Bidding, budget & goals
This is where you set your ROAS target and set your monthly budget.
Set ROAS target
If this is your first Bidbrain campaign we recommend you to set the same ROAS (Return on Ad Spend) you had on previous campaigns, regardless if you where using Google Performance max, manual or smart bidding. After the warm-up period, you can adjust your ROAS goal.
Not sure what your ROAS are? or maybe you have used COS ( Cost of Sale), read our guide here: https://academy.bidbrain.com/roas-vs-cos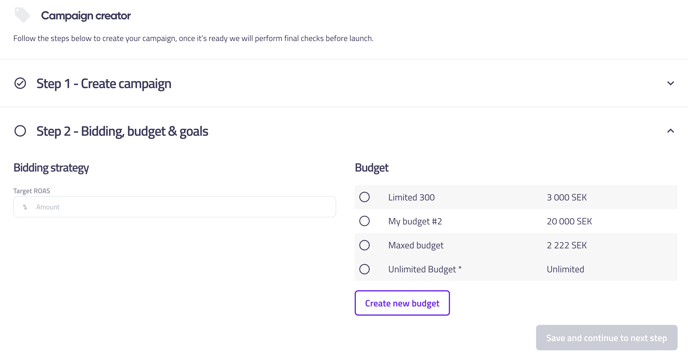 Set budget
Select an existing budget or create a new budget.
Good to know, all budgets in Bidbrain:
Monthly budgets
Shared budgets
Creating a new budget
Create a new budget by pressing the "Create new budget"-button.
Input Budget name and Monthly budget. Click the "Create budget"-button.
Your newly created budget will be selected automatically in the budget-list.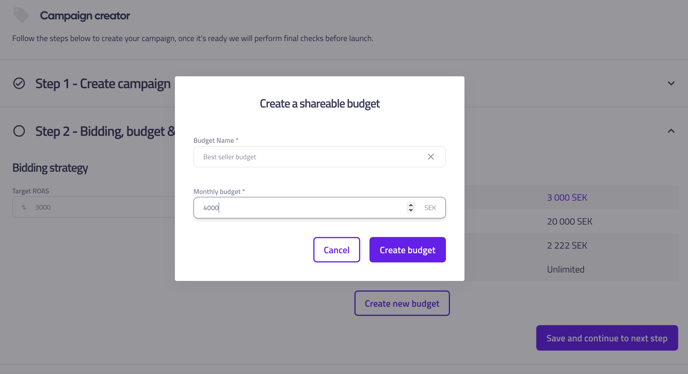 About shared budgets
All budgets created from Bidbrain are shared budgets, this mean they can be shared between multiple campaigns. If you wish to have a dedicated budget, make sure you only use the budget for one campaign.

Press Save and continue to next step 👇
Step 3. Include products
In step 3 you choose if you want to advertise all your items from your product feed or just a segment.

If you wish to create a Campaign that use all products, simply click Save and continue to go to the last step.
Using filters
With the product filters your are free to filter out exactly which products that should be in your campaign. Combine AND & OR rules to get the right segment down to item ID level.

Select which brands that should be in this campaign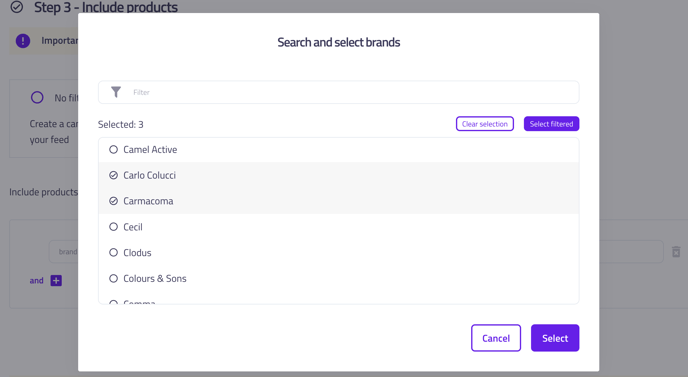 At the bottom of the module you can find how many products that are currently matching your filters. All new products in your feed that match the filter will be added to the campaign.

Multiple campaigns with overlapping product filters
Bidbrain does not allow the same products in more than one campaign at the same time. If two campaigns match the same products, only the campaign with the highest Bidbrain-priority, will contain the product.
You can change the internal Bidbrain-priority of you campaigns by going into the Manage overlapping Campaigns in the Campaign manager.

Drag and drop the campaigns in the list to change the internal priority.
The internal Bidbrain priority is not the same as Google Ads campaign priority (low, medium, high).


When you are happy with your product filters. Press Save and continue to next step 👇
Step 4. Review and publish
This is where you make sure everything looks right and save your campaign.
By checking the checkbox "Automatically pause all other non-Bidbrain shopping campaigns" we will pause the campaigns for you. If you wish to do this manually, just uncheck the button.
There are then two ways of completing the Campaign setup, Finnish and request to go live OR Save campaign as draft.
Save campaign as draft
Save your campaign as a draft if you wish to get back and do changes or just want to go live at a later stage.
Finnish and request to go live
Choose this option if you are happy with the campaign ROAS, budget and product filters and want to go live. Once you request to go live, the Ai will start fetching data and generate bids. During this period you wont be able to edit the campaign. All the campaigns will be created immediately in you Google Ads account, once the bids are ready, your campaign will go live!

🚀 All done, your campaigns are live! Sit back and enjoy when the Bidbrain Ai do the heavy lifting!
Want to watch it as a video?