Adding your product feed in 3 easy steps
Prerequisite
✅ You have created a Bidbrain account
✅ You have connected your Google Ads account
✅ You have Added a Store
✅ You have set the Store url and Country in the Store settings.
Now that we know you have completed all of the steps above, let's start with adding your product feed.
Step 1. Go to Bidbrain Feed page
In the Bidbrain Admin, Go to Feed in the left menu or visit https://bidbrain.com/console/campaign/feed


This user have no feed added, yet.

Step 2. Add new feed
Before adding your feed, read our Product feed requirements here.
Good to know before you get started,
The feed should be in Google Shopping feed format
You can add multiple feeds to each store
Bidbrain support XML, CSV, TSV format
Bidbrain support gziped / ziped feeds
Now, click the button at the bottom: Add new feed.
Before you
Add a name, this is for you to remember which feed this is.
Add the Feed url,
example ( https://myfeeed.myecommerce.com/feed-for-this-country.xml )
Language: Choose the same language you use in your feed. The options in the dropdown is based on the settings you put in Store Settings, matching the languages Google support in this market. Typically Google supports the language in your market + English.
Click Add button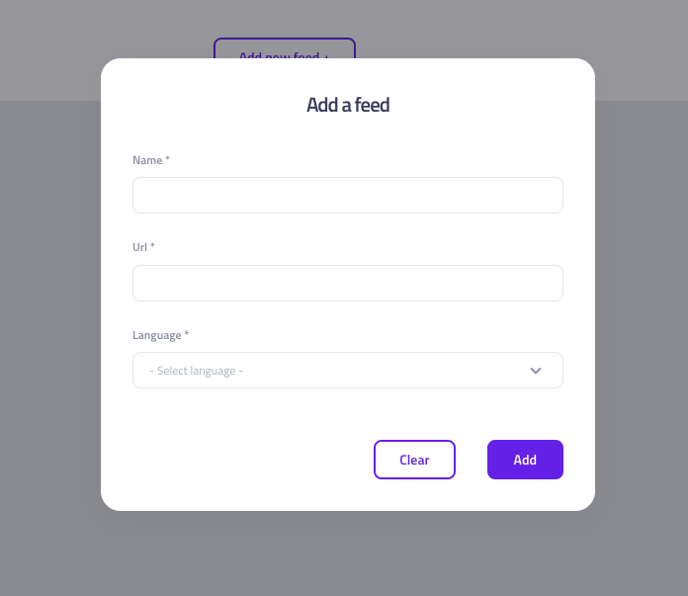 Step 3. Done!
Your feed is now added and Bidbrain will fetch all the products and run checks to make sure your feed is setup according to best practice.
Once Bidbrain have checked your feed, the result will be displayed in the feed page, this usually takes 1-5 minutes depending on you feed size.

This is how it should look when you're done:

What's next?
If you have a PRO or PRO+ subscription for this store, the next step is to add your connection to Google Merchant center or check your product feed quality report.

Add Bidbrain Supplemental feed to your Merchant center account